Maggie's Music Studio : policies
Lesson fees are dependent on age, level, day/evening time and length of lesson.
Students are offered a reserved lesson space on a specific day and time which will remain their personal lesson time all year through, until such time as 4 week's notice is given to stop lessons. Lessons are available based on Surrey School dates/timetables.
Lessons should be prepaid before the start of each month's block of lessons by Bank Transfer (or by agreement). You will be given access to view your scheduled lessons and more.
To cancel a lesson (planned holiday, etc), a minimum of 24 hours advanced notice is required by text/telephone/online cancellation in MMS to enjoy a makeup lesson – no makeup lesson will be offered for a canceled lesson within 24 hours of the booked space out of respect for the teacher's time.
If a lesson has been canceled with more than 24 hours' notice, a makeup lesson will be offered in a space vacated by another student, by offering a Zoom, FaceTime, WhatsApp or Skype lesson, a group lesson or a makeup will be offered where possible during the summer months subject to availability by arrangement with the teacher.
It is important that students attend regularly to ensure satisfactory progress – missed lessons should be kept to a minimum.
It is important that respect is given for personal time; communication channels should always be open in the event that lessons need to be canceled. If a lesson cannot be provided by the teacher in the reserved day/time space, a full refund for the lesson paid will be offered or credit forwarded to the next month's fees.
Students who are sick/contagious must stay at home (a call to the studio would be appreciated if the student is unable to attend). Lessons will be put on hold if more than 2 lessons have been missed without notice to the studios to ensure that payment is not lost for subsequent lessons paid for.
Other helpful information:
Information on your scheduled lessons will be easily viewable online in MMS. Your personal login and password details will be sent by separate email for you to be able to access the student portal.

Practice:
Please remember to always practice regularly, especially when there are several weeks between the end of one school term and the beginning of the next, i.e. in the summer holidays.

Tuition:

Tuition fees for lessons are calculated based on the current rate per half hour (all books and materials needed for lessons are included when payment is made in block payments, annually or quarterly in advance for approx 10 lessons at a time).

Payment for tuition is due in advance in cash (no cheques please).
Payment for the first block of lessons is due before the first lesson. Quarterly payments will then be due on the 28th day of each quarter year, in advance of lessons, i.e. September 28th for October-December, 28th December for January-March, continuing quarterly, 4 times a year. If you are starting lessons part way through a quarter, your tuition fees will be calculated up to the end of that quarter year, then will be calculated annually, divided by 4, to provide quarterly payments each year ongoing.

If you prefer to pay monthly in advance please let us know and we will arrange a payment plan with you. You will be asked which payment terms you would prefer for tuition payments (annually, quarterly or monthly in advance of lessons) and payment details will be emailed to you. Thank you.


Further information:
If you have any queries, please don't hesitate to send an email directly to Maggie so we can meet your needs. Email to maggiejcgeorge@gmail.com. Thank you.


FAQ: Here are a few details that we would also like you to know about (the small print...):

Studio Tuition Dates:
Maggie's Music Studio offers school term-time tuition according to the Surrey Schools' published calendar of dates. Once you have been given access, please check the schedule online to ensure that lessons are correct as discussed.

A core number of weeks of tuition are scheduled annually for lessons (from April 6th to April 5th the following year) unless cancelled or changed as discussed. Many weeks in the school holidays are also available for additional lessons if you would like to schedule some 'ad hoc' dates. Payment for these additional lessons will be payable in advance, i.e. for exam prep or holiday lessons – there is no expiry date for these additional lessons and they can be used in any available timeslot or transferred to another student.

Maggie's Studio holiday weeks are usually planned in the school holidays but occasionally a few Studio holiday weeks may be in term-time. You will be given a calendar of dates each year so you can plan successfully.


'Lesson makeup/swaps (i.e. making up the time when a lesson has been missed)'.
We offer a 'lesson swap' with another student's day/time if you plan to be absent from your personal regular lesson time-slot. However please always keep absences to a minimum, as there is no guarantee that a 'lesson swap' space will be available that works for you.

Please always give as much notice as possible of a future cancelled date (i.e. preferably 7+ days in advance to ensure a suitable swap is available for you) but please note that a minimum of 24 hours is needed to get a makeup.

You can cancel attendance for a future date and register for a makeup/swap yourself, directly from within your online account.

IMPORTANT NOTE: If any lesson or group session is cancelled within 24 hours of the lesson time/day, the lesson/group will be lost as such short notice gives insufficient time for another student to swap into your cancelled space. Thank you for your help and understanding to keep momentum for your musical journey.

Cancelling a lesson at short notice:
An online lesson can be arranged in your usual timeslot whenyou are unable to attend at the studio (i.e. if you are well enough to take instruction but you or another attending family member is feeling unwell or contagious or if you are unable to attend at the Studio for whatever reason, e.g. trouble with transport).

Group lessons:
Cancelled group lessons will not be made up but a zoom video of the lesson will be available for you to download and watch later. However, it may be possible for you to join in online if you are well enough to participate.

If you wish to stop lessons completely, four weeks' notice would be appreciated so we can release your time-slot to another student and calculate any refund that may be due to you. Thank you.


SICKNESS - VERY IMPORTANT - PLEASE NOTE:
Regular lesson attendance will ensure great progress - practice time between lessons is very important in order to move forward and ensure success! As all lessons are currently online, this sickness policy has been amended as it is not applicable (can't share sickness bugs online...).


And finally:
Thank you for choosing Maggie's Music Studios for your music lessons. We look forward to continuing to help you with your own personal musical journey.

If you have any queries please do not hesitate to contact Maggie's Music Studio using the Contact Form Link on this site or by calling the telephone number shown below.
Maggie George, L.R.A.M.
Frimley Green, GU16 6NH
Text / Tel: 07860 874260
Music is life!
That's why our hearts have beats...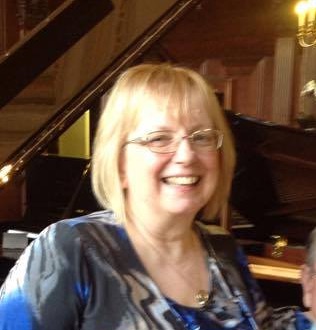 Not sure you want to take the 'big leap' into lessons?
If you want to try music lessons but are not sure what to expect, why not contact Maggie now to chat about where you want to go for your musical journey. You have nothing to lose (after all, this is a free consultation). So don't delay, contact Maggie today!